Larry D. Ledbetter
Direct Dial: 404-835-9503
E-Mail: lledbetter@lwglaw.com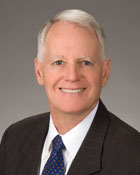 Larry Ledbetter's practice is concentrated in the corporate and securities law areas and principally involves mergers and acquisitions, debt and equity financings, venture and private equity investments, corporate governance, federal and state securities law matters, and other business transactions. He has focused his efforts on providing efficient and sophisticated legal services in the corporate and securities areas to established public companies and companies with significant growth potential.
Selected Experience
During the last several years, Mr. Ledbetter has represented corporate clients in a broad range of transactions, including:
Six public note offerings ranging from $125 million to $1 billion;
Several initial and secondary public stock offerings;
Spin-off by a public company valued at approximately $2 billion;
Public company merger resulting in $6 billion combined company;
Public company acquisition of $1.4 billion;
Dispositions by a public company totaling $400 million in fifteen transactions;
More than 30 acquisitions and dispositions representing private equity and strategic buyers in transactions ranging from $5 to $250 million; and
Numerous corporate debt financings.
In addition to his transactional and securities compliance practice, Mr. Ledbetter represents clients in corporate matters, such as officer and director responsibilities, and provides general business law advice.
Background
Listed in the 2005, 2006, 2007 and 2008 editions of The Best Lawyers in America® for Corporate Law
Education
J.D., Harvard Law School (1971)
B.A.(Economics), magna cum laude, Southern Methodist University
Bar Admissions
Texas (1971)
Georgia (1973)